Date: Thursday 2nd of December 2021
Issuance Time: 12:49:29 PM
Official Statement #2
NOVEMBER 2021, AN ABNORMALLY DRY MONTH AS TRINIDAD HAS OFFICIALLY RECORDED ITS 2ND DRIEST NOVEMBER ON RECORD, WHILE TOBAGO RECORDED ITS DRIEST NOVEMBER
Trinidad just endured its 2nd driest November in its 76 years of recorded rainfall history at Piarco and Tobago its driest November in 53 years at Crown Point. Preliminary results show that based on 00-24 hour rainfall, 81.4 mm of rainfall was measured at Piarco for November 2021. Usually, the average rainfall amount for November at Piarco is 221.9 mm (1991-2020 average). This places November 2021 rainfall total at 63.3% below the long-term average rainfall.
This is not normal. November usually produces a second peak in the annual rainfall pattern at Piarco. November 1952 with 70.2 mm remains the driest November on record. In the 76-year record since 1946, there were three (3) previous Novembers when less than 100 mm of rain fell at Piarco. The last time this occurred was 41 years ago in 1977 when 89.4mm of rain fell during the month. Prior to this, apart from 1952, November 1950 produced 85.6mm.
Notably, the abnormally low rainfall experienced during November 2021 at Piarco is a continuation of a drying trend observed in November rainfall over the last two decades (Figure 1). Fourteen (14) of the last twenty-two (22) Novembers (2000 to 2021) at Piarco had rainfall below the long-term average, seven of which occurred in the last 10 years. Notably, the last five (5) Novembers each had rainfall below the long-term average.
Crown Point in Tobago was even drier with significant rainfall deficiencies observed (Figure 2). Just about 36.0mm of rainfall was measured over the 30 days (00-24 hour) for the month of November 2021. This registers as 85.5% less than the month's average of 218.6 mm. It means that Crown Point had its lowest rainfall for the month of November since records began in 1969. Typically, November is the wettest month in southwest Tobago.
The level of dryness witnessed during November 2021 at Crown Point has few precedents . None of the past Novembers at Crown Point had rainfall less than 50.0 mm and only two had rainfall less than 100.0 mm. These were November 1995 and 1976 with 86.5 mm and 96.6 mm, respectively. Similar to Piarco, fourteen (14) of last twenty-two (22) Novembers had rainfall below the long-term average with 7 of these occurring in the last 10 years, while four of the last five years had Novembers with below average rainfall totals (Figure 2).
As always, rainfall varied across the country but the rainfall deficiencies and dryness observed in November affected the entire eastern half of Trinidad, extending into most areas of the western half of Trinidad, and all of Tobago. The exception was northwest Trinidad in the Diego Martin area. The area received heavy bursts of rainfall during the second week of November that produced just about 174 mm over a 24-hour period from 8:00 am on the 11th to 8:00 am on 12th. This episode of torrential rainfall, mostly accounted for the area receiving 51% more rainfall than the month's long-term average for the area.
Notably, the significantly below average rain that fell in November, followed eight extremely wet months, out of the nine months from February to October, that produced above average rainfall, which was only broken by June with near average conditions. This observed recent drying trend across Trinidad and Tobago during the month of November is consistent with expected climate change impacts that are anticipated to influence greater frequency of drier than usual wet season months in Trinidad and Tobago. The Trinidad and Tobago Meteorological Service is associating November's dryness with a strong and persistent pattern of upper level subsidence or sinking air (associated with positive velocity potentials), which acted as a cap to cloud development.
Meanwhile, temperatures in November were relatively low compared to the historical record on average. The mean monthly temperature was 0.3oC cooler than the average (27.7oC). Similarly, the mean night minimum temperature was 0.6oC cooler than the average of 23.6oC while the mean maximum daytime temperature matched the long-term average of 31.8oC. The hottest temperature of the month at Piarco was 33.0oC on the 24th while it reached 32.9oC on the 22nd in Tobago. The coolest night in Trinidad was the 17th with a minimum temperature of 22.1oC, while it was 23.7oC on the 10th in Tobago.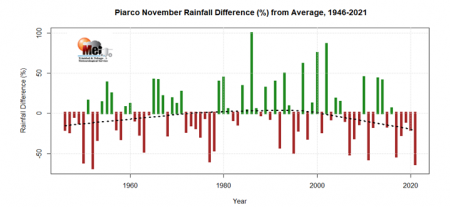 Figure 1. Trend in Piarco November Rainfall Performance shown as percentage difference from the long-term average.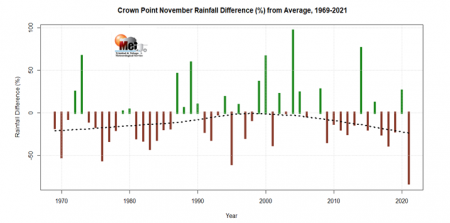 Figure 2. Trend in Crown Point November Rainfall Performance shown as percentage difference from the long-term average.