Date: Friday 17th of September 2021
Issuance Time: 06:06:21 PM
Official Statement #2
Atlantic Low-Pressure System East of the Lesser Antilles
The Trinidad and Tobago Meteorological Service (TTMS) has been closely monitoring a broad area of low pressure associated with a Tropical Wave, located approximately 1000 km east of the Lesser Antilles.
As showers and thunderstorms associated with this system have become better organized overnight, there is a high chance (90%) of development into a Tropical Cyclone over the next 24 to 48 hours, as environmental conditions remain favourable.
This low pressure system is forecast to move west-northwestward near 24 km/hr over the next several days (refer to figure 1). A tropical depression is likely to form over the weekend or early next week, as it moves across the Central Tropical Atlantic and then near the Northern Leeward Islands by Monday and Tuesday.
Regardless of development, the system is likely to affect portions of the Leeward Islands with localized heavy rainfall and gusty winds and moderate to rough sea conditions by early next week.
At this time, the system poses no direct threat to Trinidad, Tobago, Grenada and its dependencies.
The TTMS will continue to closely monitor this system and will issue an update at 6:00 am tomorrow, Sunday 19th September, 2021 or earlier if the situation warrants. As always, pay close attention to information being issued by the TTMS by visiting www.metoffice.gov.tt, downloading our mobile app (search: TT Met Office) and following us on Twitter, Facebook and Instagram.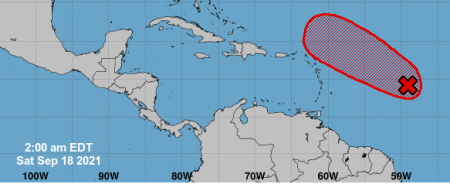 Fig. 1