The Weak La Niña Appears to Have Peaked but is Expected to Continue Throughout the 2022 Dry Season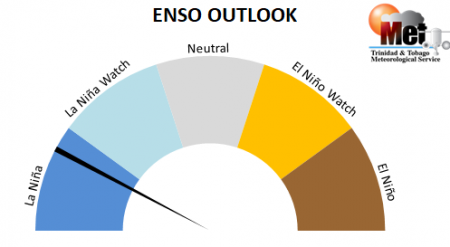 The current La Niña, even though weak, appears to have peaked but is likely to continue for the rest of the 2022 Dry Season. Over the last four weeks, sea surface temperatures and coupled atmospheric conditions in the central to eastern tropical Pacific were consistent with a mature La Niña event. Below-average sub-surface water temperatures dominated during the period even though there has been some warming towards the end of December. The majority of climate models suggest La Niña will persist with an increased chance to transition to ENSO-neutral by the end of the 2022 Dry Season. The TTMS's ENSO Outlook maintains La Niña conditions.
What does this mean for Trinidad and Tobago?
Historically, La Niña tends to increase the chance of above average rainfall during the local dry season, but not always. It is likely that the influence of La Niña on the local 2022 Dry Season rainfall will be negligible.
Guide: A La Niña (El Niño) is declared when the average SSTs in the central and eastern equatorial Pacific Ocean become at least -0.5oC cooler than average (0.5oC warmer than average) in the preceding month and the cooling (warming) is expected to persist for five consecutive overlapping three-month periods. This must occur together with a corresponding change in the overlying atmospheric circulation. The TTMS's La Niña/El Niño Watch is activated when the ENSO Outlook indicates a probability of approximately 50% chance or greater for development of La Niña or El Niño.