ENSO-Neutral Currently Exists
Potential Increases for La Niña to emerge during August to October 2021
La Niña Watch is Maintained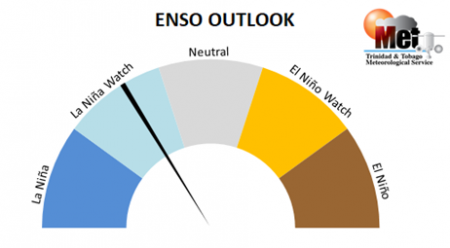 Over the last four weeks sea surface temperatures (SSTs) of the central and portions of the eastern equatorial Pacific were near to below-average but within the ENSO-neutral range. During July, subsurface temperatures cooled considerably, becoming rather negative in the central Pacific, reflecting the emergence of below-average subsurface temperatures. Based on these observations, as well as, recent predictions by a number of climate models around the world, weak La Niña conditions stand a reasonable chance of emerging in the August to October period. Given that the potential for La Niña to re-occur within the next 3 months is greater than 50%, in keeping with our guide, the TTMS's La Niña Watch is maintained.
What does this mean for Trinidad and Tobago?
Historically, ENSO-neutral-cool conditions transitioning to La Niña during the latter half of the wet season tend to enhance local rainfall in each month except November. Additionally, La Niña can help make atmospheric conditions more favourable for tropical cyclones to form in the Atlantic.
Guide: A La Niña (El Niño) is declared when the average SSTs in the central and eastern equatorial Pacific Ocean become at least -0.5oC cooler than average (0.5oC warmer than average) in the preceding month and the cooling (warming) is expected to persist for five consecutive overlapping three-month periods. This must occur together with a corresponding change in the overlying atmospheric circulation. The TTMS's La Niña/El Niño Watch is activated when the ENSO Outlook indicates a probability of approximately 50% chance or greater for development of La Niña or El Niño.